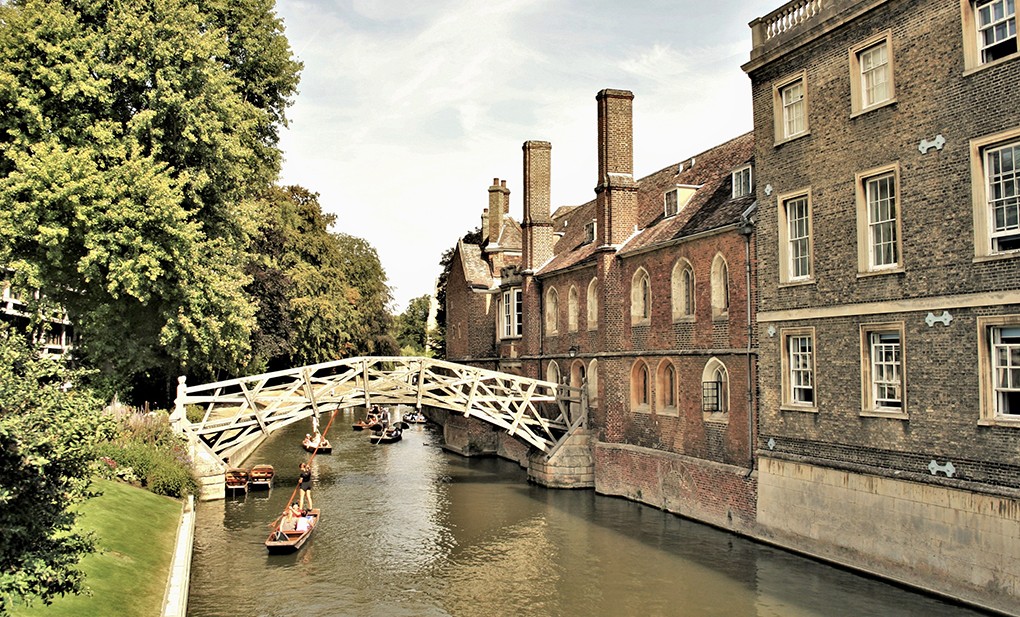 A city of endless opportunities, start your journey with our top ten things to do in Cambridge and see where it takes you.
As if stepping into another world, the beautiful ancient city of Cambridge feels as though it's been frozen in history. That is to say, you'd be forgiven for thinking you've just stepped onto the set of a Harry Potter film.
Cambridge is one of the UK's most visited cities, shrouded in history dating back to Bronze Age. However, it's Cambridge's medieval past that draws in the visitors today due to its romantic, Gothic architecture and medieval University that's more than 800 years old. Most recognised for its 31 colleges and its record of famed scholars, the University has seen monarchs and politicians, scientists and authors, making it a most fascinating place to explore. Wander Cambridge's quintessential cobbled streets, along secret passageways and past ancient limestone buildings; marvel at its stunning colleges and cross its winding River Cam.

Cambridge is steeped in legend and has a thousand stories to tell – if only walls could talk! Above all, there's something intriguing to find around every corner, so whether you visit Cambridge for a weekend or a day, you won't want to miss a thing. That's why we simply had to create a Murder Mystery Trail in the heart of Cambridge (number 10 on the list). This trail is an imaginative treasure hunt, but not as you know it! Many of the entries on our 'Top 10 things to do in Cambridge' list can be seen or enjoyed along the trail route, and is great way to get a feel for the city.
So, what are the best things do in Cambridge?
In short, our 10 Top Things to Do in Cambridge: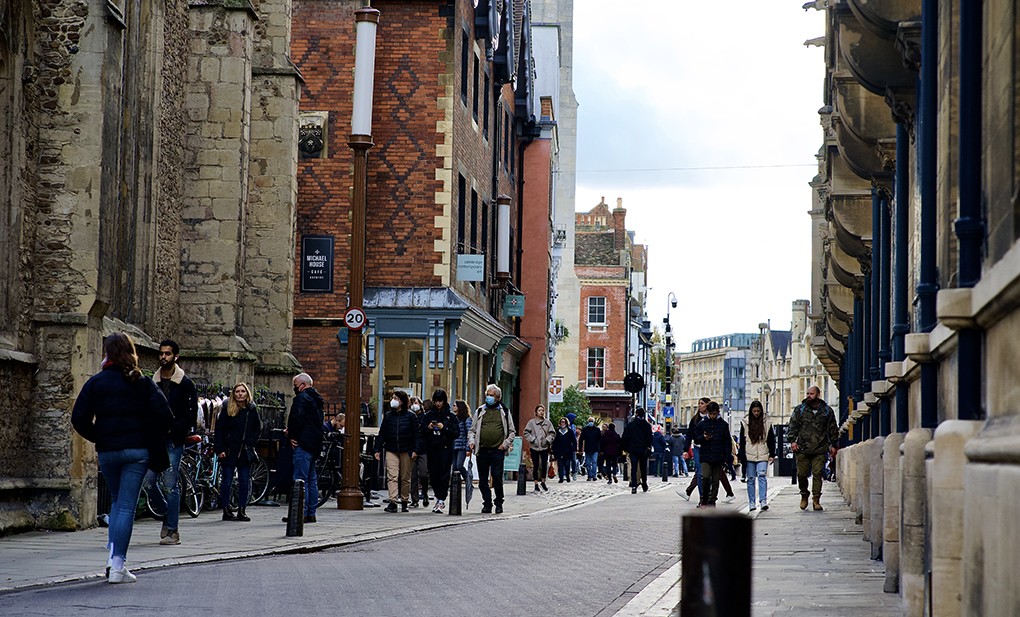 Firstly, there is no better way to explore Cambridge than on foot because it allows you to wander freely. Discover Cambridge's winding passageways, intriguing college entrances with scholars coming and going; cross bridges over the Cam and discover Cambridge's many green spaces. Call us bias, but we firmly believe our Cambridge Mystery Trail (#10 on the list) is the best walking tour and way to explore the city. This treasure hunt with a whodunit twist captures the essence of the city, leaving you with a good understanding of what Cambridge has to offer, and a smile on your face.
Alternatively, if you'd prefer, you can travel around Cambridge as the locals do, on two wheels. As a result, it's easy to hire a bike and there are plenty of rails to lock it up on when it's time to venture on foot.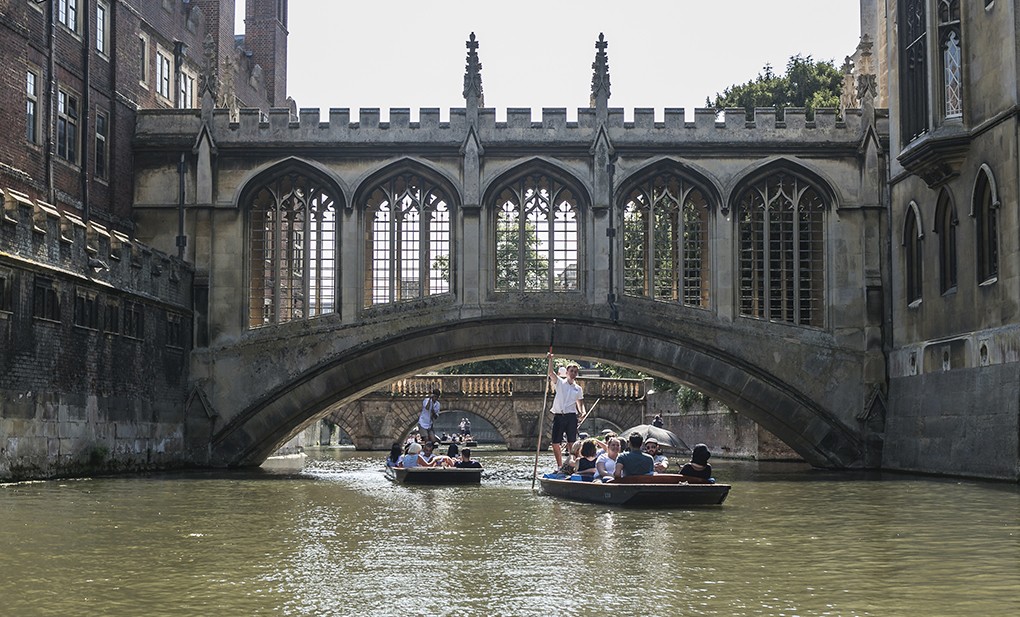 An absolute must-do if you want to see Cambridge in all its glory. Punting on the Cam is an institution and a tradition, but most importantly, it is the only way to see some of the University's most famous landmarks and buildings because a guided punt takes you along the College Backs. It will take you past some of Cambridge's most famous places, including King's College Chapel, the Bridge of Sighs and The Wren Library at Trinity College. The Wren is home to a most spectacular collection of books including Sir Isaac Newton's own copy of his famous Principia Mathematica and A.A. Milne's manuscripts of Winnie-the-Pooh and The House at Pooh Corner.
Your punt guide will be well-versed in the history of Cambridge and ready to tell all the best tales as you glide along the idyllic River Cam. If you're lucky, you might even see one of the daring DIY punters fall in!
Scudamore's Punting is the oldest punting company in Cambridge. Book here.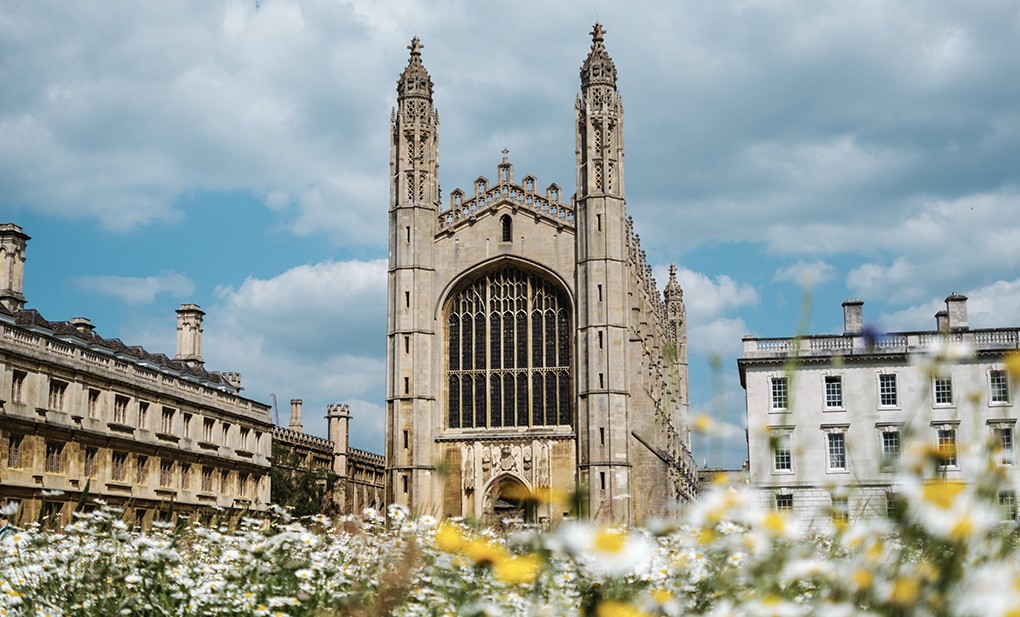 When you book a self-guided tour of the impressive King's College Chapel you can explore the grounds of this magnificent gothic building. Above all though, it allows you into the Chapel itself where you can see the world's largest fan vaulted ceiling and some of the finest examples of medieval stained glass in the world. Children under 5 get free entry, adults £10, children 6 – 17 years-old £8.

Looking for more? Experience the Chapel's wonderful Choral Evensong. Visitors are welcome to enjoy their regular services and rehearsals held every Monday in the Chapel, accompanied by the mixed voice King's College Choir. Plan your visit here.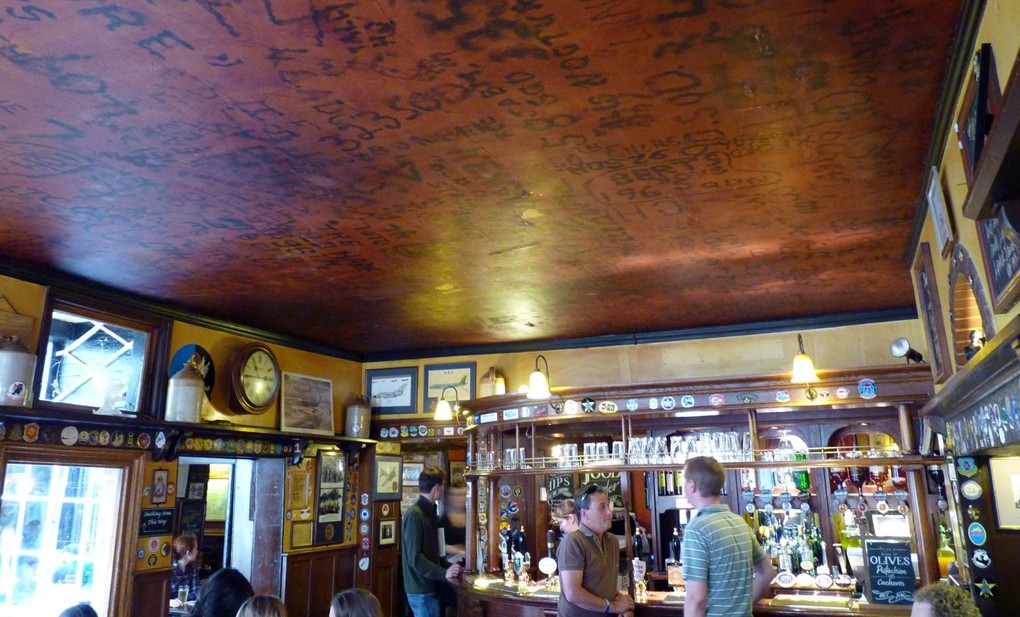 Go in for a pint or a bite to eat and revel in its fascinating past. Once a humble coaching inn, the Eagle is one of Cambridge's oldest pubs and is now world-famous. Here, in 1953, that Francis Crick and James Watson announced their discovery of "the secret to life". The double helix structure of DNA, one of the biggest scientific discoveries of the 20th century.

Not only that, the Eagle's RAF Bar is famous for its 'graffiti-covered' ceiling. It's believed that British pilot, Flight Sergeant P. E. Turner, was the first to stand on the table and burn his squadron number into the ceiling. After this, many airmen followed in burning or signing their names, initials, slogans and squadron numbers into the ceiling using lighters and candles.
Did you know: One of our Cambridge Murder Mystery Trail clues has to be solved on the walls of the pub, making The Eagle an ideal pitstop along this trail route!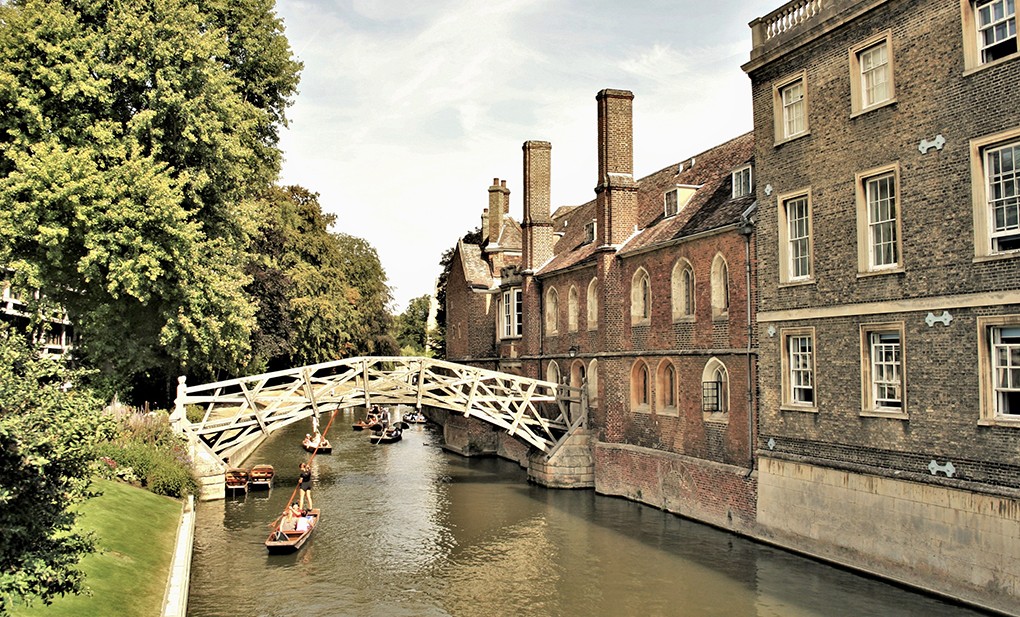 This isn't just any bridge; the beautiful work of engineering is a wooden footbridge that crosses the River Cam connecting two areas of Queens' College. Local myth has it that Sir Isaac Newton built it… In fact, Newton died 22 years before it was actually built, so that's one myth busted.
Stand on the Silver Street Bridge to view this spectacular Wooden Bridge. Considered a 'perfect design' in engineering terms because it uses only straight pieces of timber to create the bridge's arch.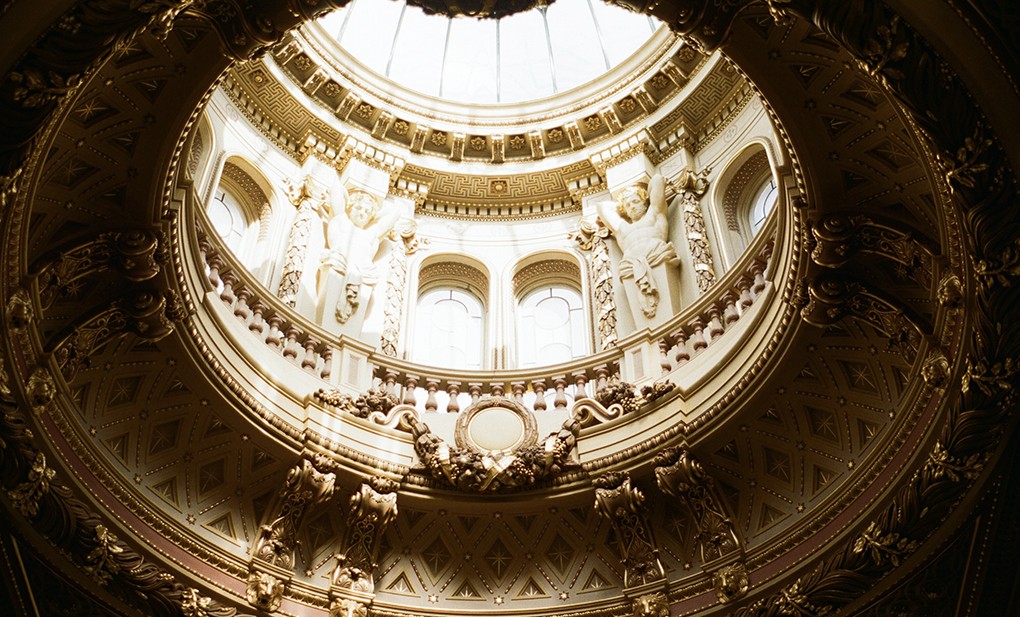 Calling art enthusiasts, history buffs and everyone in-between, Cambridge invites you to dive into history. Discover the Fitzwilliam Museum, the Museum of Archaeology and Anthropology; the Scott Polar Research Institute and Kettle's Yard gallery,. Just a few of the many fascinating museums and galleries you can visit in Cambridge. There's an exhibition for every kind of visitor, whether you seek to travel back in time or peruse the city's latest contemporary exhibits. Plan your visit here.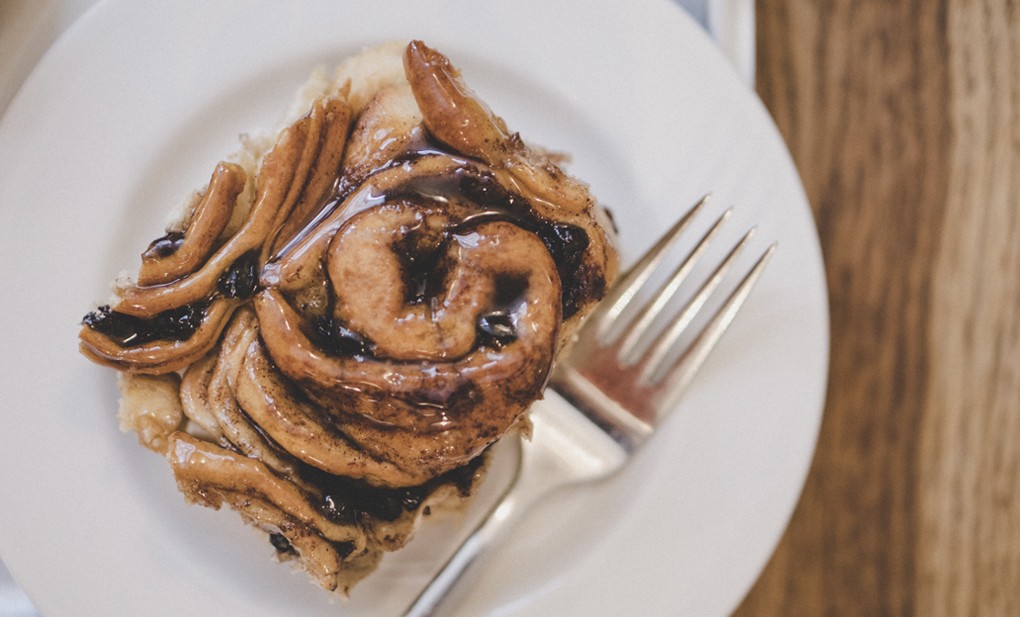 With all this exploring, you need an abundance of cafes, restaurants, bakeries and pubs to refuel you along the way. Never fear, Cambridge knows what its doing when it comes to eateries and waterholes.

Try the legendary Chelsea Buns at Fitzbillies, pints and burgers at the Pint Shop; Michelin dining at Midsummer House or ice-cream at Jack's Gelato. There's every kind of eat, for every kind of budget.
If you love independent shops, second-hand boutiques and unique boltholes, you'll love shopping in Cambridge. From craft markets and charity shops, to record stores and even a Haunted Bookshop!

Hunt in Jemporium Vintage for retro vibes and The Hive for antiques, jewellery and trinkets. Then pop into Relevant Records to add to your vinyl collection and grab a coffee at the same time!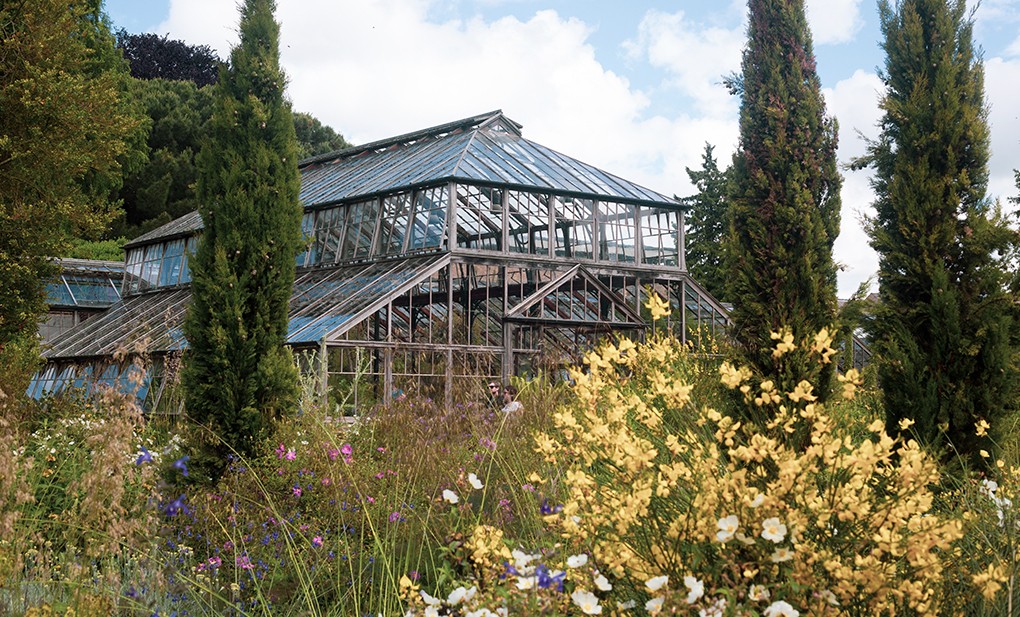 The Cambridge University Botanic Garden (CUBG) was founded in 1762 as a means to teach medical students at the University. Today there is a collection of more than 8,000 plant species from around the world which aids University research and study, but it is also open to visitors year-round boasting a host of areas to explore. From the Scented Garden and Glasshouse Range to the Bee Borders, Grass Maze and the beautiful Fountain in the centre. Tickets are released on a weekly basis and can be booked online.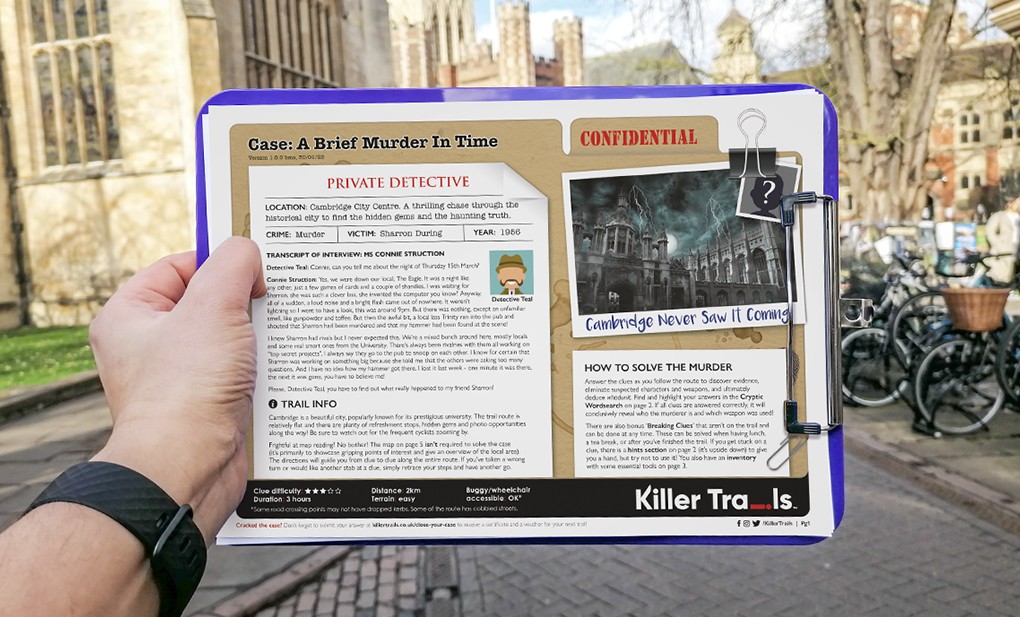 Solve a murder mystery themed treasure hunt whilst also visiting the city's best sites at the same time.
'A Brief Murder in Time' is a Cambridge treasure-hunt-come-walking-tour with a murder-mystery twist. Wind your way down ancient passages, over historic bridges and past gothic colleges whilst you track down the killer. Find clues and crack codes along the way to deduce whodunit. The trail takes you past Cambridge's must-see sites, including King's College, the Corpus Clock, the Mathematical Bridge and The Eagle Pub to name a few. Whether a local or visiting Cambridge for the first time, this trail is the best way to explore and learn about the city. So, if you love a good treasure hunt or walking tour – then our Cambridge Murder Mystery Trail is for you!
There you have it, just ten of the best places to go in Cambridge. With things to do for all the family no matter how old or young, you're sure to find something that fascinates and intrigues you in this wonderful city, and you may even solve a murder mystery!
Did we miss anything? Let us know if anything else should feature on our Top 10 Things to Do in Cambridge list!
Find more murder mystery trails near you!