York City Centre Murder Mystery Trail
Silence of the Shambles
£12.99
Only one purchase required for a group of
up to 6 people
Would you like to explore the spooky streets and snickelways of York whilst solving a murder mystery case?
Well, you've come to the right place, detective! Silence of the Shambles is an imaginative self-guided city tour experience that escorts you on a thrilling journey passed the city's most visited points of interest within the city walls. Discover historical landmarks, old pubs and spooky legends in Europe's most haunted city. Along the way, you'll solve mind-bending puzzles and find hidden clues to ultimately deduce whodunit. The game is afoot! Are you up for the challenge? Available for instant download. Go now!
About this awesome trail
This York Murder Mystery Trail has the perfect route plotted out to make sure you see all the highlights inside the city walls.
Silence of the Shambles – York Murder Mystery Trail is a self-guided walking tour that navigates you past some of the best historical landmarks that York has to offer, including:
York Minster
The Golden Fleece inn
York Shambles
Ye Olde Starre Inne
Many more hidden gems
The trail route is relatively flat, about 2km long and will take approximately 2.5 hours to complete. There are plenty of refreshment stops and photo opportunities along the way!
York trail statistics:
Start and end location: St. Helen's Square, YO1 8QP (the trail is a loop). View on Google Maps
Clue difficulty:

⭐⭐⭐

Duration: 2.5 hours
Distance: 2km
Terrain: Easy
Wheelchair/buggy accessible: OK*
The case synopsis:
An apparition of Guy Fawkes… Wicked witchcraft… Buried Treasure… and the death of a butcher. But which suspect is behind these sinister events? Never have your detective powers of deduction been so baffled as in this, your spookiest challenge yet. Can you navigate the labyrinth of snickelways and solve York's most extraordinary mystery?

Trail overview:
A murder mystery themed self-guided walking tour around York City Centre.
Discover historical landmarks and hidden gems as you follow the trail.
Solve clues to discover evidence, eliminate suspected characters and weapons, and ultimately deduce whodunit.
Instantly downloadable trail.
Print onto A4 paper or follow the trail using any smartphone or tablet device (see below).
Ideal for groups of 2-6 people. Only one purchase required per group, so makes for an affordable day out!
Self-guided tour – do whenever you like and at your own pace.
Whether a local or visiting somewhere new, our trails are the best way to explore and learn about your surroundings.
Solve correctly, and you'll receive a certificate and a voucher towards your next trail!
Discover landmarks
& hidden gems
Find clues &
solve puzzles
Deduce whodunit
to crack the case!
Discover landmarks & hidden gems
Find clues & solve puzzles
Deduce whodunit to crack the case!
How does it work?
Our trails are self-guided walking tours. This means you can conquer them at your own pace, taking as many detours and pit-stops as you desire. We've investigated all the highlights each location has to offer which have been carefully crafted into our Killer Trails, so there's plenty of selfie opportunities along each route. Before you know it, you'll have walked a mile and already be dying to solve your next case!
Simply download and print the trail onto A4 paper and you're ready to go. No access to a printer? No worries. Alternatively, you can follow the trail using any tablet or smartphone device. Just make sure to note down your answers as you go to complete the Cryptic Crossword or Wordsearch when back at home with a warm cuppa. Learn more...
Who is the trail aimed at?
Killer Trails are challenging adventures full of riddles, cryptic puzzles and gripping stories for anyone who loves to explore, socialise and learn. Our creative team has devised compelling narratives for each trail that are full of pop culture parodies for the eagle-eyed detective. You'll get a kick out of our trails if you enjoy escape rooms, puzzles, scavenger hunts, ghost and historical tours, murder mysteries and board games.
Our Murder Mystery style treasure hunts are ideal for a thrilling day out with family, friends, spouses or colleagues. Highly addictive for adults and the whole family, you'll be gutted you didn't find out about us sooner. Our trails work best for small groups of two to six people. Purchasing and printing just one copy of the trail is required per group. Everyone will work better as a team and this also makes for an affordable day out! More than six people in your group?
Plot a killer day out in York
Considered Europe's most haunted city, York's cobbled streets and snickelways carry more history, myths and legends than you'd believe. A city with Roman roots and a Viking past, thirty world-class museums and contemporary shops and eateries, York is the original city for adventure.
If you're searching for the best York walking tours, this Murder Mystery themed trail captures the essence of the city, leaving you with a clear understanding of what the area has to offer, and a smile on your face. The trail starts and ends in St. Helen's Square and Betty's Cafe Tea Rooms makes a great place to stop for a celebratory treat. If you're after more ways to magnify your adventure in York, check out our blog – 10 Cool & Unusual Things To Do in York.
Inspect all of our trails murder mystery themed trails in Yorkshire and the Humber.
*The route is all paved or solid. Some road crossing points may not have dropped kerbs. Much of the route has cobbled streets. Head to Visit York's accessibility page for more local information.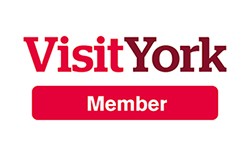 Don't just take our word for it...
A great cheap day out"
I was in charge of planning a trip for my family, as a day out. They said to me that there were all money conscious and that I had to make it cheap. I stumbled across Killer Trails murder mystery and thought perfect! Around £13 in total for a mystery that all six of us could play, which worked out to be a few pound each between us! I printed the PDF file that was sent to me three times, and we split into three groups of two. This made us highly competitive and so much fun! We raved from start to finish to see who could complete it first, we were so competitive and the game was so good that every minute flew by, we were laughing and giggling bumping into each other, hiding our secrets and trying not to look obvious when we found something the entire way around! It was actually so much fun. I don't usually write long reviews but I thought this company well deserved one. What a great, cheap day out for my entire family. And also if we wanted to stick together we could have, and taken it slow and enjoyed the walk. Either way would work. 10/10
Share your trail experience on
Tripadvisor.

Thrilling trail
or your money back
We know you'll have a great time on the trail.
But if you don't (which you won't), we'll give you a full refund.
1% For Good. Did you know: 1% of all our trail sales goes to our Charity of the Year - BBC Children in Need.