What is a Murder Mystery Trail?
Our Murder Mystery Trails are immersive treasure hunts with a whodunit twist. Solve cryptic clues as you follow the route to discover pieces of evidence, eliminate suspected characters and weapons, and ultimately deduce whodunit. These self-guided walking tours take you on a thrilling journey past historical landmarks and points of interest, offering a unique way to explore touristy hotspots around the UK.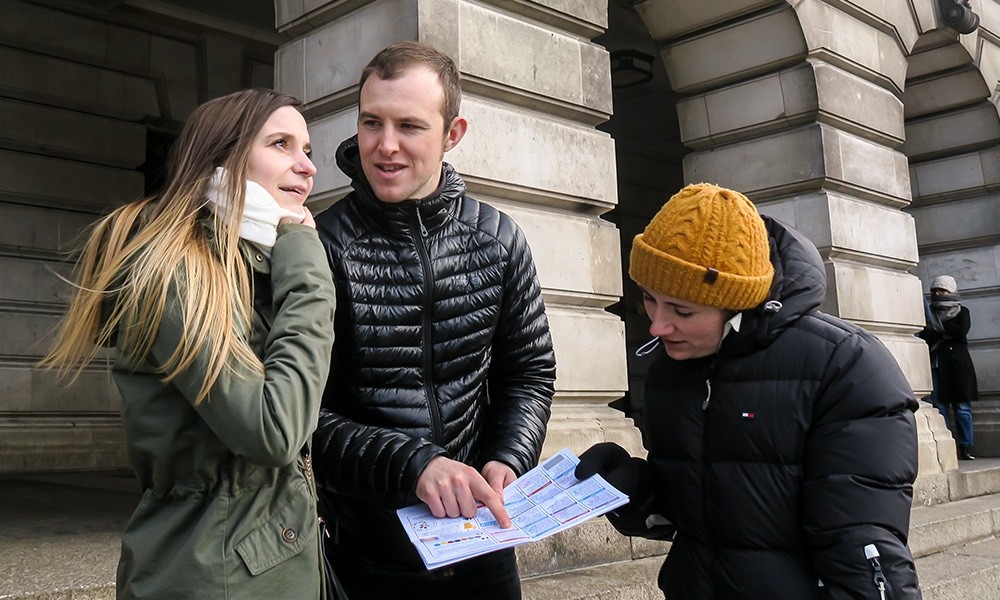 "It's like a walking tour, treasure hunt, and outdoor escape room all in one!"
Each Murder Mystery Trail is unique, with varying degrees of "walking tour", "treasure hunt", and "escape room-like" vibes chucked into the mix. Some incorporate simpler clues, whilst others have puzzles that need a little more consideration and can feel more like an outdoor escape room at times.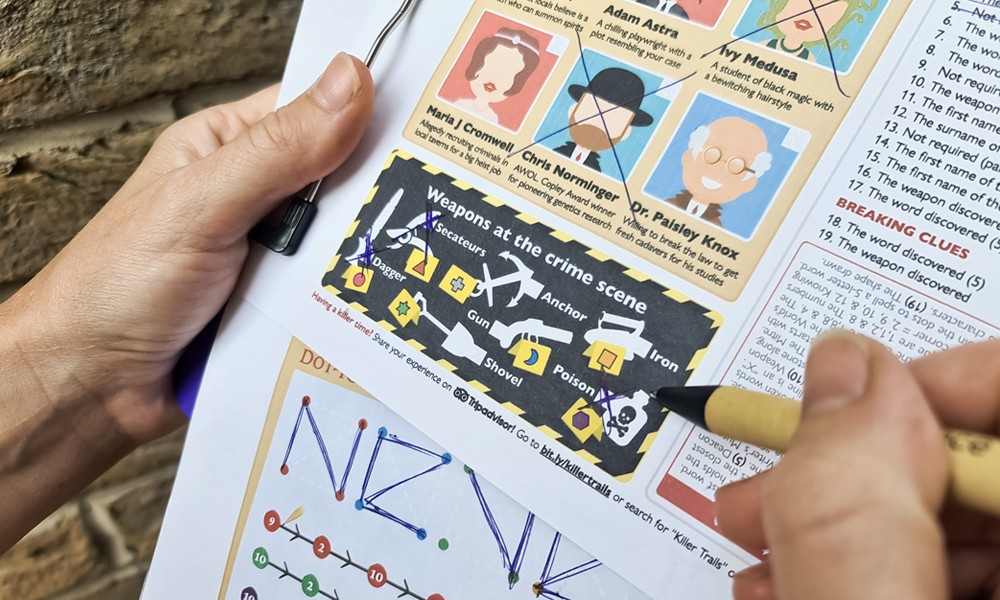 Cracking the case
Each trail incorporates some form of metapuzzle, for example, one of our Cryptic Crosswords or Wordsearches. Answers from each clue feed into the metapuzzle, revealing who the murderer is and which weapon they used! Expect a variety of puzzles, riddles and mechanics to crack each case.
What do you mean self-guided?
Simply put, there is no tour guide. Our trails use easy to follow directions that guide you to each clue location. This means you can conquer them at your own pace, taking as many detours and pit-stops as you desire. It also means you can do the trail whenever you like, so long as it's daylight!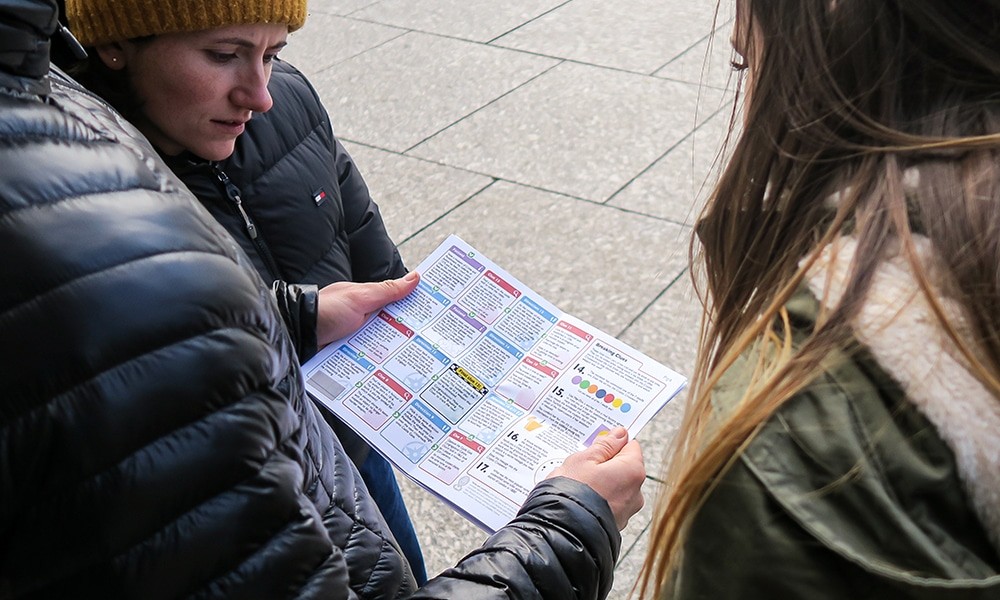 Why should I do a Murder Mystery Trail?
We've investigated all the highlights each location has to offer which have been carefully crafted into our Killer Trails, so there's plenty of selfie opportunities along each route. Whether a local or visiting somewhere for the first time, you'll gain a newfound appreciation for locations around the UK as you discover hidden gems and compelling factoids about your surroundings.
We firmly believe our trails are the best way to explore and learn about a new area (and so do our customers, just check the detective logs). So, why not start plotting a killer a day out?
Where can I do one?
Our trails are spread out all across the UK. The majority of our trails are based in major touristy hotspots. We strive for quality over quantity and meticulously craft every trail from scratch, ensuring each one is to die for. Whilst we would kill to have trails in every town and city, we're a young company with a small team, so please bear with us as we steadily smother the entire UK! We're constantly adding more trails to our range so keep checking our shop for more.
Instant download
All our trails are available for download as soon as you've purchased one, so you can get solving the case right away! The trails are PDF files accessible on any computer or smart device. Simply download and print the trail onto A4 paper and you're ready to go.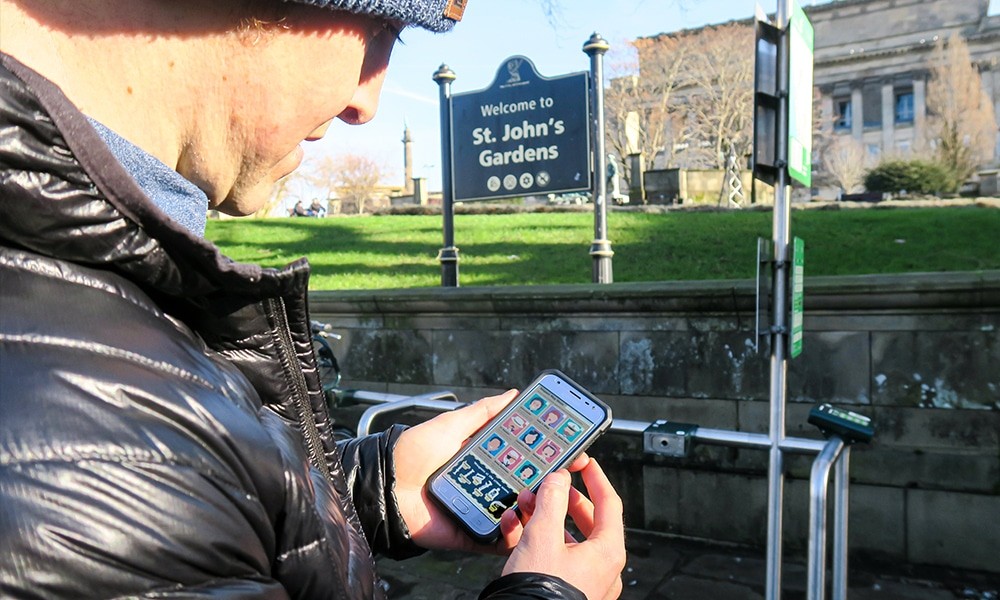 No access to a printer?
Although we recommend printing out the trail, you can view the PDF and follow the route using a tablet or smartphone device. Just make sure to note down your answers as you go. The murderer and the weapon are revealed once you fill in the Cryptic Crossword or Wordsearch. So, you could draw this out on paper to fill in as you follow the route, or just complete this bit when back at home with a warm cuppa!
If you're away from home but would prefer a printed version, here are a few ideas:
If you're staying in a hotel, politely ask if the front desk could print your trail.
Libraries aren't just for books you know! Find a local library using this Google search and use their printing facilities.
Office supply stores may also be able to help. Find a local office supply store with this Google search.
Where does the trail start and end?
Each product page has the address of the start and end locations. Many trails loop back to the start point, whilst others provide directions on how to get back (should you require). Once you've downloaded a trail, you will have access to more information on the start and end locations.
Who are our trails aimed at?
Killer Trails are challenging adventures full of riddles, cryptic puzzles and gripping stories for anyone who loves to explore, socialise and learn. Our creative team has devised compelling narratives for each trail that are full of pop culture parodies for the eagle-eyed detective. You'll get a kick out of our trails if you enjoy escape rooms, puzzles, scavenger hunts, ghost and historical tours, murder mysteries and board games.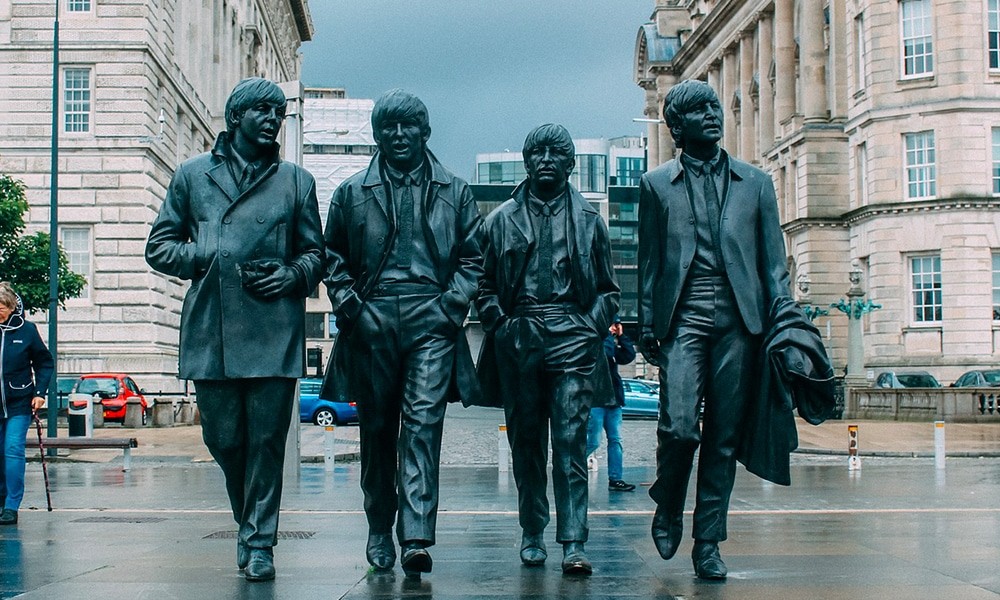 Our Murder Mystery themed trails are ideal for a thrilling day out with family, friends, spouses or colleagues. Great fun for adults and the whole family, you'll be gutted you didn't find out about us sooner. The trail language leans more towards an adult audience, but kids will love finding and solving clues too, they just might need a hand with some of the more challenging ones. The tone is a lighthearted comical whodunit with mild violence and mild crude humour (think the Pink Panther meets Clue).
Can't solve a clue?
If you're having trouble, there is a hints section in every trail (usually upside down next to the Cryptic Crossword or Wordsearch). If you really can't figure out a clue or two, don't worry. You should still be able to deduce who the murderer is and which weapon was used (or at least have a stab at it!).
Difficulty, duration, and distance
Our trails are rated with a 'clue difficulty' level of 1-5 stars. They are all fairly easy to follow and all should be solvable with a bit of contemplation and logical thinking. We ultimately want you to see all the sights, and have a great time doing so. A five-star trail will be puzzling, but you should get there. Exercise your little grey cells, else they'll grow rust!
Trails typically last around 2.5 hours and the average length is around 3.5km. Allow a few hours for refreshment stops and to appreciate your surroundings at a leisurely pace.
Terrain and accessibility
Our trails are predominantly located within city centres and are relatively easy walks. Where possible the routes avoid steps and obstacles difficult to manoeuvre, however, this isn't always achievable. As we love historical areas, many of our trails pass through unavoidable cobbled streets, but generally, the routes are all paved or solid. For more information on accessibility, refer to individual trails and visit local tourist information centres or accessibility webpages of local councils.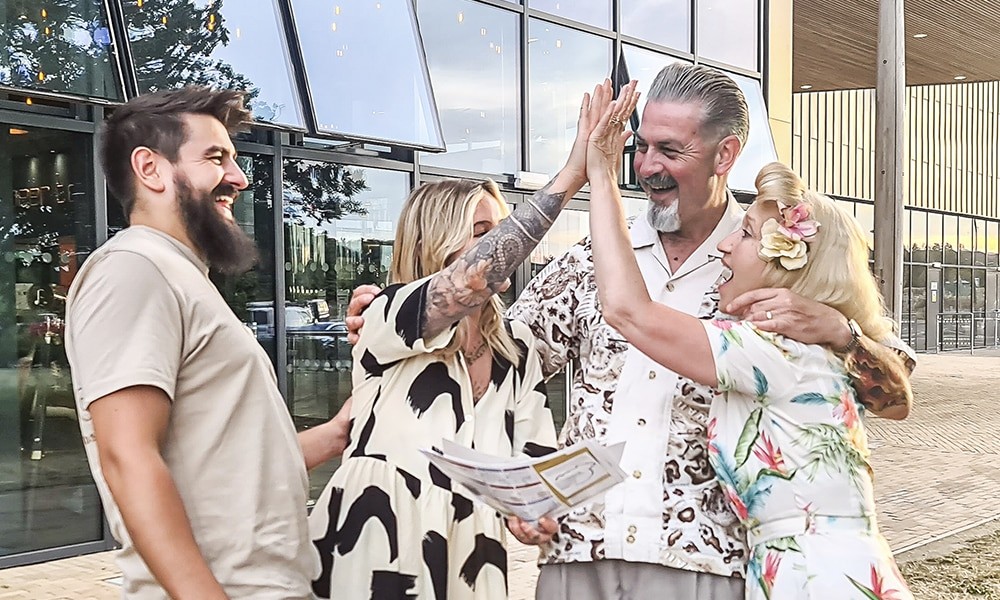 Solved the murder mystery?
Great work detective! Now it's time to close your case and see how accurate your deduction skills are.
By correctly solving a case you will receive:
20% discount off your next trail
Certificate of case completion (to show off to other budding detectives)
Clarification on the motives of whodunit, and how they almost got away with it
The next thing to do is leave us a TripAdvisor review to help let other budding detectives know what they're in for (but don't give any spoilers away!). We read all of your feedback and use it to continually improve our products. We really appreciate your input.
Can't access part of the trail?
We put considerable effort into making sure our trails are accurate and accessible at the time of production. However, from time to time there may be unforeseen interferences with a trail route e.g. road works or building construction. If this happens to you, then please do let us know, as it will help other trail detectives. If part of the trail is currently off-limits don't try to access it. If the trail instructions are unsuitable, make your own judgment call on how to proceed. You are ultimately responsible for your safety. See our terms and conditions for more information.
Any questions?
Head to our FAQs page. If you don't find an answer get in touch.